Journey Into Night at Ryan Ranch
Our recent trip back to Joshua Tree National Park was a great time to explore the night. Thanks to some handy jetlag, I was wide awake at 3:30am and hiked to the ruins of Ryan Ranch. The moonlight was bright enough to make wearing a headlamp unnecessary. Ryan Ranch was built by JD Ryan who ran a mining operation in the late 1800's. All that remains now of the family home are some adobe brick walls.
If you've heard my talk on "Finding Your Creative Voice," you know my feelings about the current state of night photography. Basically, I'm not a fan of bright milky ways and light painted night landscapes that can have a carnival-like feel to them. Don't get me wrong, I have a lot of respect for the photographers who create these images and the incredible amount of work that goes into them, it's just not the night I experience and want to share with my photography. To me the world at night is a dark, quiet and solemn place that is very different from the what we see when the sun is up.
In spite that opinion, I ended up at Ryan Ranch with a bag full of flashlights and no idea what to do with them. The photograph above is Ryan Ranch lit only by moonlight. The 3/4 waning gibbous moon is bright enough to cast a shadow, yet allow a few stars to show like the constellation of Orion.
Building a Story Around Ryan Ranch at Joshua Tree
As I started to photograph and got familiar with the ruins, I began to see a story develop. How many times has a place like this been a refuge in the desert for a traveler or survivor? Maybe those flashlights would come in handy afterall. One of them can cast a soft diffused light and when placed behind one of the walls, it looked like a lantern. While I was setting up this shot I got a little bonus when Venus rose above the mountains. Not being an astrophotographer, I had no idea that was going to happen so it was a very pleasant surprise. Do you get the impression that someone is behind the wall huddling by a small lantern to keep the night out?
How This Image Was Made
Most night photographs are created from a combination of several images and this is one is actually made from the 3 raw images shown here.
This is the reference image with no extra lighting.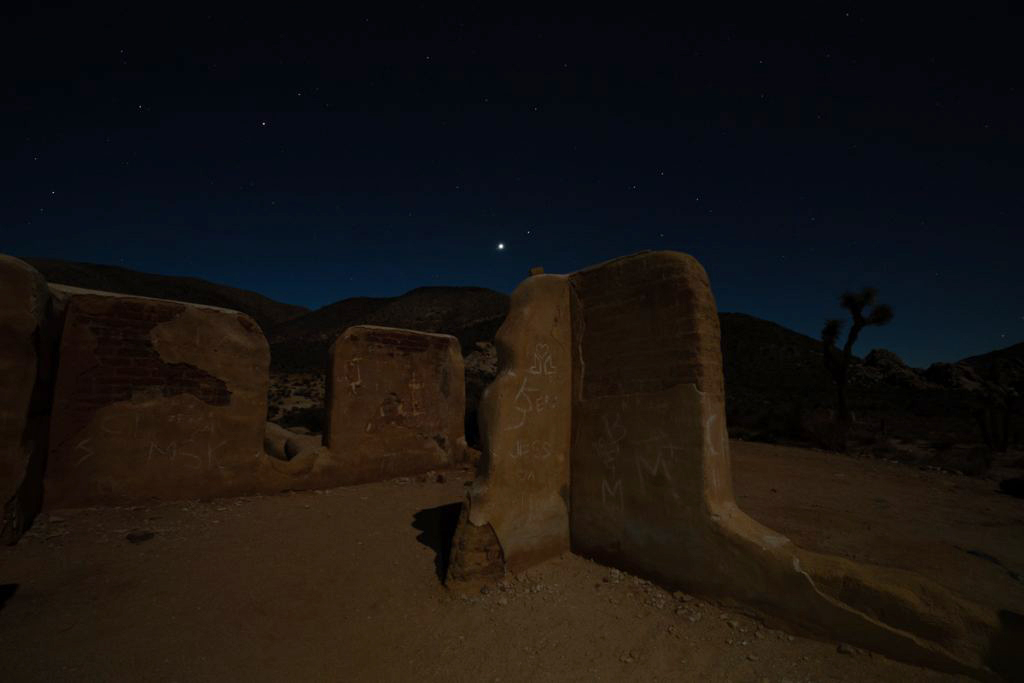 The second image with the light pointing to the inside of the ruin to cast a glow against the wall.
The third image with the light pointing out into the desert. to try and bring the attention to the shadowy Joshua Tree. It is Joshua Tree National Park after all.
Here is another version of that idea made in a different part of the Ryan Ranch house. This photograph is a single 10 second exposure using two flashlights. One was on the ground behind the wall providing the lantern effect. The other light I held and turned on for a couple of seconds to bring the wall closest to the camera and the foreground out of the moon's shadow a little bit.
I found myself running out of things to do at Ryan Ranch and there was still a bit of time before sunrise. I should have driven back to the hotel and crawled into bed, but decided to go visit this old car.
Before Joshua Tree was a National Park, it was a center of gold mining and ranching. The Park Service has seen fit to leave some of the relics of that history strewn around the park. Fortunately, a short drive and hike lead me to this old car in time to catch the early twilight. By the time the sun rose, I was on my way back to breakfast.
Enjoy
See more western landscape photography here.
Learn more about improving your photography.