Exploring A Special Swamp
Note: All of the images in this post were made before the New Jersey closed the parks and state forests.
One of the most unusual features of the New Jersey Pine Barrens are the swamps. Atlantic White Cedar swamps in particular. These are dark and wet places. Being in one is like entering a timeless, eerie and mystical world. If a dinosaur or fairy appeared, it would look like it belonged there. What is even more fascinating is the light in a cedar swamp. At times it can look like night time with light filtering through the thick forest canopy, creating odd plays of light and shadow.
These otherworldly places are not easy to get into and challenging to photograph once you do. It may sound odd, but in this time of social distancing required by the response to the Coronavirus, swamps have become places of refuge for me.
The swamp pictured in this post is different from others I've explored. Its remote location has been all but cut off by damaging storms and rising water levels. The result is a cedar swamp that has been pretty much untouched from the time it was harvested for wood over 50 years ago. In the Pine Barrens the woods has been clear cut many times up until the mid 20th century. This is about as close to an "old growth" forest as you can get around here.
I've hiked and bushwhacked to this swamp a few times over the past several months. The photographs below are the result of these trips. You can take a little tour of this unusual place from the comfort of your own home. Boots and navigation skills are not required.
The Cedar Swamp Environment
Navigating through a cedar swamp is tricky. They can be thick with trees. The ground is usually wet and very messy with undergrowth and fallen branches. Finding a composition in these unwieldy places is challenging and takes a fair amount of effort to find order in the chaos.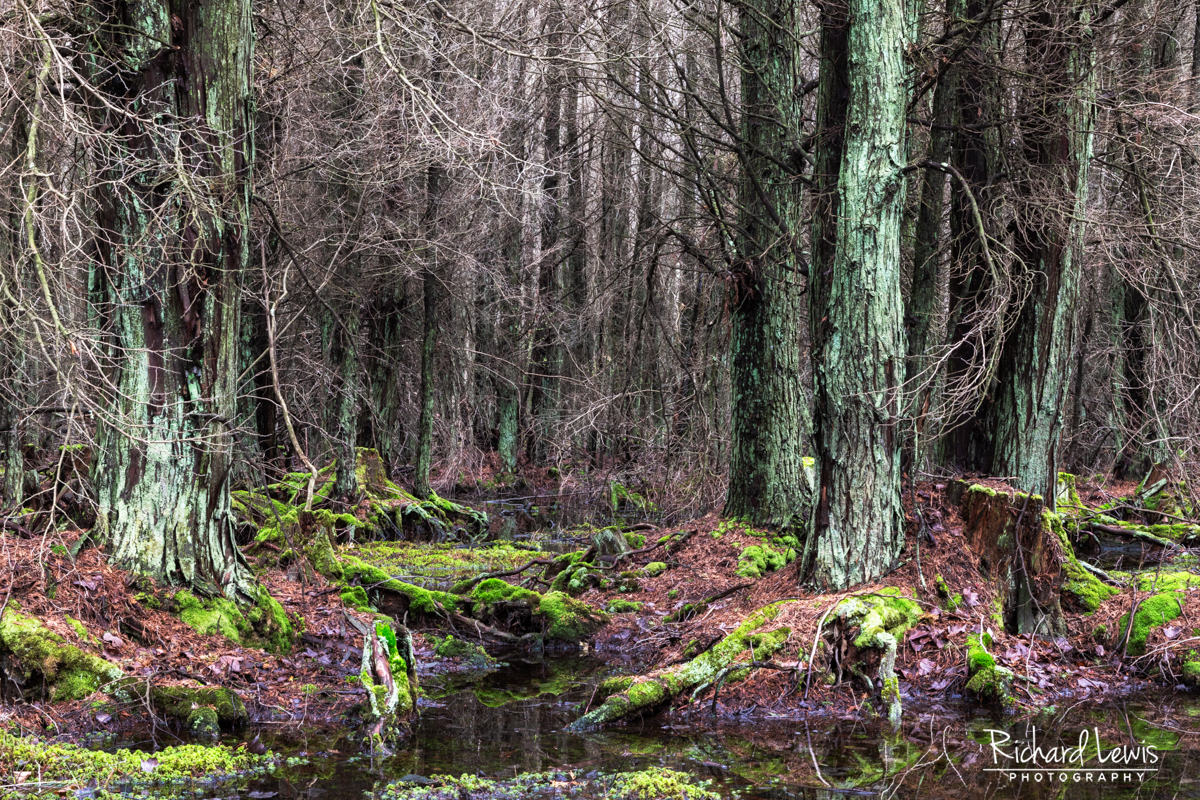 Chaotic Cedars by Richard Lewis 2020
The two photographs below show cedars that have most likely grown out of tree stumps after being cut down years ago. It is amazing how this place has regenerated itself over the last 50+ years.
Color and Texture
One of the most seductive things about a cedar swamp are the colors and textures. Color is mostly created by lichen and moss on the ground and trees. The bark of the cedar tree can vary greatly in texture too.
Romancing The Cedars
Cedar swamps are often referred to as cathedral-like. The above photograph from a different swamp sort of illustrates this idea.  The "cedar cathedral" is a romantic notion that doesn't always reflect the reality of actually being in a cedar swamp. When you are standing in the dark with water halfway to your knees the experience seems more organic and alien than cathedral-like. But then again, one cannot help a feeling of sanctuary in these swamps that is very much like being in a large, old cathedral.
While this is one special swamp, it's my plan to keep exploring others and sharing the photographs I find. Please visit my growing gallery of Cedar Swamp photographs.
Stay Home and Stay Safe