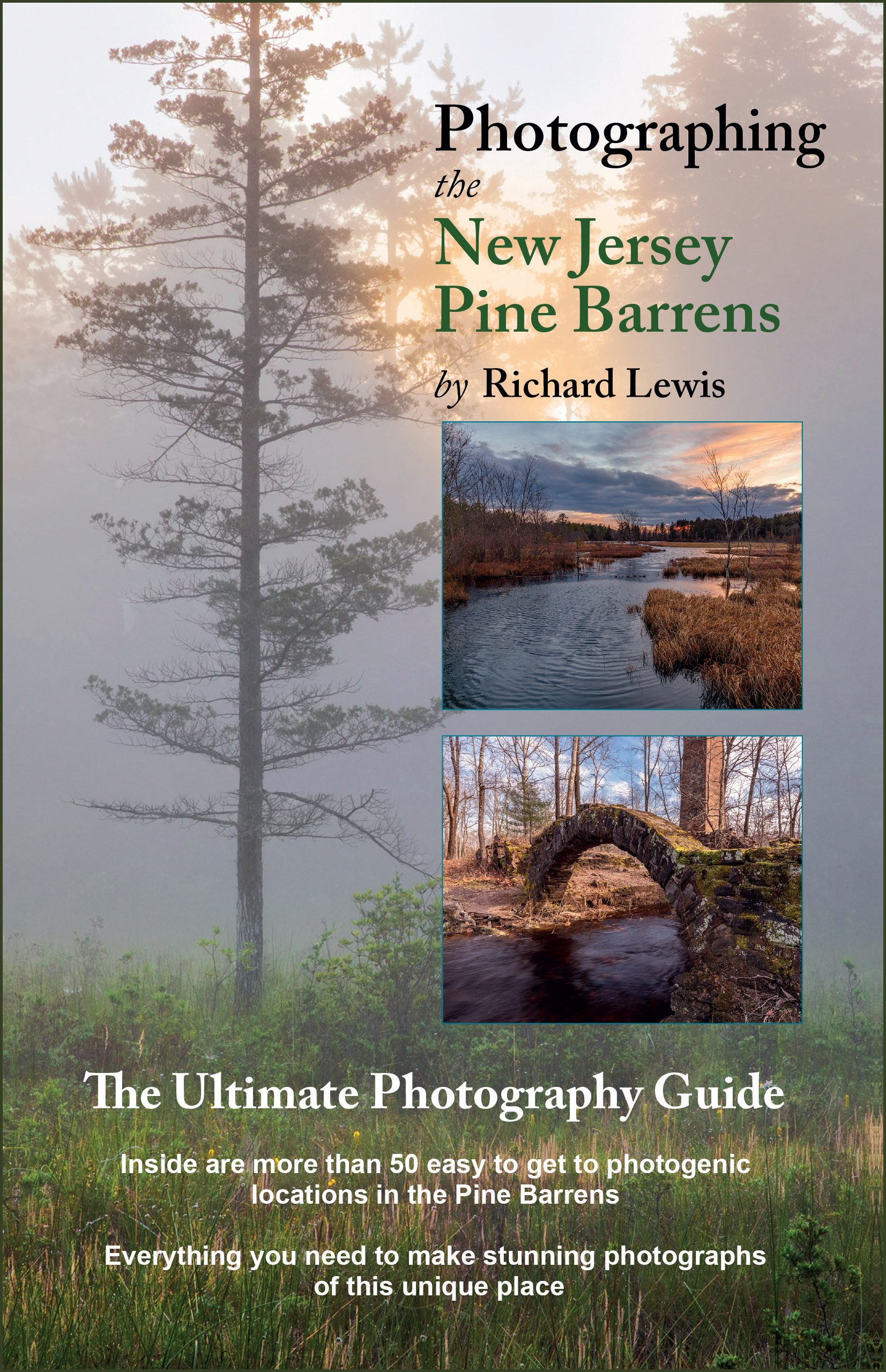 Photographing the New Jersey Pine Barrens
For the last few years I've ended the year with a blog post that looks back on what I've done photographically in order to share some things that I have learned.  This year, one major accomplishment happened that doesn't have anything to do with specific photographs. It was the publication of my book called Photographing the New Jersey Pine Barrens, The Ultimate Photography Guide.
For years, when lecturing about the New Jersey Pine Barrens, or running workshops in this amazing place, I was often asked where to get great photography. I finally realized the best way to answer these questions was to write a book.
It took 3 years of research, including traveling the length and breadth of the Pine Barrens. I also read just about every photography guide, both good and not so good to get ideas and set the standard for the book, which is that:
Locations needed to be very photogenic and easy to get to.
Descriptions needed to be detailed enough so that someone could go there and have the information necessary to get great photographs.
The book should contain more than locations, including information about what the Pine Barrens are from an artistic standpoint and how best to photograph and navigate the Pines.
It should be entertaining as well as informative.
Learn more and order this book here
Photographing The New Jersey Pine Barrens probably never would have been finished if it wasn't for the global pandemic. If you have to be locked down in a local area, you can't do much better than the 1,000,000+ acres of the Pine Barrens. Traveling around the Pines lead to all sorts of discoveries. Even though I have explored the Pines for over 30 years, I found places I never knew existed and got to know places that are further from home. One thing about living in a place as big as the Pine Barrens is that you tend to ignore great places because they are further away than the short drives you can take to other great places.
Writing a book like this was a lot of fun with a lot of work between the fun. It was fun visiting places and finding ideal photographic locations, not to mention making photographs. The ultimate fulfillment for me was opening the boxes and seeing the books. It was amazing to see all that work in the form of a 200+ page book.  The stuff between the fun was a lot of hard work. It was interesting, but not as much fun. The the book had to be put together, edited, proofread and proofread again and again. That involved working with others like my editor, publisher, proofreading expert wife, and other experts. As this was my first book it was a learning experience all the way.
Why do this? There isn't much money in publishing a local photography guide, but my goal was not to be on the New York Times best seller list. What I wanted, and hopefully accomplished, was to open the New Jersey Pine Barrens up to photographers and let them explore this amazing natural treasure.
Some Photographs
Since this is a Photography Blog, here are some recent Pine Barrens photographs that I made after finishing the book. Many are from locations listed in the book.
One other thing that happened in 2021 was learning to fly a drone and use it to photograph the Pine Barrens from a whole new perspective. This will be the subject of my next blog post.
Wishing everyone a safe and happy holiday season and an excellent new year! 
Enjoy!
See more Pine Barrens Photography here